Promotion Notice: Connor and I take pride in being a great source for parents and mentors to get unbiased, experienced based product recommendations. Tap to read about our partnerships to bring you great products that fit your Maker development.
We stand behind all our recommendations and have built partner relations with a set of great product providers that match our philosophies for affordable learning projects. Links below to Banggood are affliate links that would, if purchased, provide a commission to Raising Awesome. Seedstudio does not provide a commission, but provides products for our review. PCBWay provides a commission for our personally designed circuits that are purchased. All other product links have no affiliation, endorsement, or paid commissions to Raising Awesome - they are links to products we bought, use, and recommend.

We've marked all links accordingly to keep it all clearly above the table. Don't let these endorsements sway your confidence in us - to date, we have never made any money from endorsements, but disclose to sustain confidence in our integrity.
Starter Kits
Sure, it can be fun to design your own remote controlled robot, but what is really cool is when your robot can sense things and make its own decisions on what to do. That is where the world of sensors comes in and the best place to start is with a starter kit.
This kit from Seeed Studio is excellent. It steps through each of ten sensors. It also includes an Arduino microcontroller built in.


The big thing for this starter kit is you don't need to buy anything else, yet. No soldering iron, jumpers, wire strippers, etc. You just need a PC/laptop or a Raspberry Pi so you can interface with it for programming.
Mechatronic Essentials
Banggood is a great place to get just about anything - especially Maker parts. Here we picked out the essentials for the person on a budget like us. We placed them in the order of importance to outfit your Maker supplies.
---
Microcontrollers & Single Board Computers
There are a lot of boards out there, but the reality is you can stick to just a few that are very cheap and you'll find you never will outgrow them. If you do, you'll be designing and fabricating your own designs. Below are our favorites. We've never outgrown them even with our CNC projects.
---
Cool Stuff We Saved for with No Remorse
As we progressed into the world of making, some things just seemed too useful to resist. So, over time, we either won or saved up for.
---
Materials
These are some great prices for your consumables from Banggood.
1KG 1.75mm PLA Filament 3D Printing Material For Reprap Prusa i3/Creality 3D Ender-3/Artillery 3D Printer Part
With the number of projects we did, we were suprised how far a spool will go. Even with all our projects, we burned through just about 10 spools in 5 years.
---
Our Circuit Designs
Below are our circuit designs from our project page. You can get the raw circuits for pennies at PCBWay.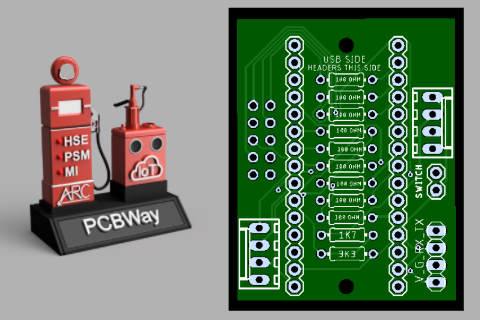 ARC Desk Ornament Arduino Nano Shield
This is the Arduino Nano Shield we designed for our Desk Ornament IoT Project. It allows to hook up an OLED, Proximity Sensor, and LEDs cleanly to a Nano IoT 33.
---








Visitors: 6070